Synopsis
Code named 'The November Man', Peter Devereaux is a lethal and highly trained ex-CIA agent, who has been enjoying a quiet life in Switzerland. When Devereaux is lured out of retirement for one last mission, he must protect valuable witness, Alice Fournier. He soon uncovers this assignment marks him a target of his former friend and CIA protégé David Mason. With growing suspicions of a mole in the agency, there is no one Devereaux can trust, no rules and no holds barred.
Film Credits
Producer:
Beau St. Clair
Sriram Das
Writer:
Karl Gajdusek
Michael Finch
Starring:
Olga Kurylenko
Caterina Scorsone
Will Patton
Pierce Brosnan
Bill Smitrovich
Luke Bracey
Amila Terzimehic
More Information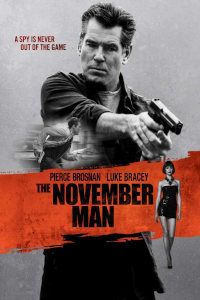 Rating:
R
Restricted. Children Under 17 Require Accompanying Parent or Adult Guardian.
An R-rated motion picture, in the view of the Rating Board, contains some adult material. An R-rated motion picture may include adult themes, adult activity, hard language, intense or persistent violence, sexually-oriented nudity, drug abuse or other elements, so that parents are counseled to take this rating very seriously. Children under 17 are not allowed to attend R-rated motion pictures unaccompanied by a parent or adult guardian. Parents are strongly urged to find out more about R-rated motion pictures in determining their suitability for their children. Generally, it is not appropriate for parents to bring their young children with them to R-rated motion pictures.
Advisory:
strong language, violence, sexual violence, sex, drug use
Country:
United Kingdom, United States
Genres:
Action/Adventure
Suspense/Thriller