79159
Take Me Home Tonight
Synopsis
Recent MIT grad Matt Franklin should be working for a Fortune 500 company and starting his upward climb to full-fledged yuppie-hood. Instead, the directionless 23-year-old takes a part-time job behind the counter of a video store at the Sherman Oaks Galleria. But, Matt's silent protest against maturity comes to a screeching halt once his unrequited high school crush, Tori Frederking, walks into the store. When she invites him to an epic, end-of-summer party, Matt thinks he finally might have a chance with the girl of his dreams. With his cynical twin sister Wendy and best friend Barry, Matt embarks on a once-in-a-lifetime evening that will change the course of their lives on one unforgettable night in the Go-Go '80s.
Film Credits
Producer:
James Whitaker
Jim Whitaker
Sarah Bowen
Ryan Kavanaugh
Writer:
Gordon Kaywin
Topher Grace
Jackie Filgo
Jeff Filgo
Starring:
Michelle Trachtenberg
Topher Grace
Chris Pratt
Anna Faris
Dan Fogler
Teresa Palmer
More Information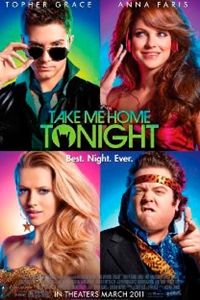 Rating:
R
Restricted. Children Under 17 Require Accompanying Parent or Adult Guardian.
An R-rated motion picture, in the view of the Rating Board, contains some adult material. An R-rated motion picture may include adult themes, adult activity, hard language, intense or persistent violence, sexually-oriented nudity, drug abuse or other elements, so that parents are counseled to take this rating very seriously. Children under 17 are not allowed to attend R-rated motion pictures unaccompanied by a parent or adult guardian. Parents are strongly urged to find out more about R-rated motion pictures in determining their suitability for their children. Generally, it is not appropriate for parents to bring their young children with them to R-rated motion pictures.
Country:
United States, Germany
Genres:
Comedy
Drama
Romance