Synopsis
An outrageous new ensemble comedy starring some of the biggest names in Hollywood. Movie 43 is not for the easily-offended and contains jaw-dropping, sometimes shockingly disturbing, but always entertaining intertwined storylines you'll have to see to believe.
Film Credits
Director:
Jonathan van Tulleken
Will Graham
Steven Brill
Griffin Dunne
Steve Carr
Elizabeth Banks
Rusty Cundieff
Peter Farrelly
Patrik Forsberg
James Gunn
James Duffy
Brett Ratner
Producer:
Jonathan van Tulleken
Jenny Serneholt
Jason Taragan
Charles B. Wessler
Peter Farrelly
John Penotti
Ryan Kavanaugh
Writer:
Greg Pritikin
Patrik Forsberg
Olle Sarri
Matt Portenoy
Jonathan van Tulleken
Will Graham
Jack Kukoda
Jeremy Sosenko
Bob Odenkirk
Rocky Russo
Tobias Carlson
Elizabeth Wright Shapiro
James Gunn
Ricky Blitt
Jacob Fleisher
Will Carlough
Claes Kjellstrom
Jonas Wittenmark
Bill O'Malley
Starring:
Richard Gere
Kate Winslet
Seann William Scott
Hugh Jackman
Chris Pratt
Anna Faris
Gerard Butler
Christopher Mintz-Plasse
Kristen Bell
Emma Stone
More Information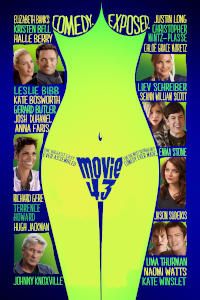 Rating:
R
Restricted. Children Under 17 Require Accompanying Parent or Adult Guardian.
An R-rated motion picture, in the view of the Rating Board, contains some adult material. An R-rated motion picture may include adult themes, adult activity, hard language, intense or persistent violence, sexually-oriented nudity, drug abuse or other elements, so that parents are counseled to take this rating very seriously. Children under 17 are not allowed to attend R-rated motion pictures unaccompanied by a parent or adult guardian. Parents are strongly urged to find out more about R-rated motion pictures in determining their suitability for their children. Generally, it is not appropriate for parents to bring their young children with them to R-rated motion pictures.