Synopsis
One of the most beloved stories of all time is coming to life in the motion picture event for the whole family, Mirror Mirror. A fresh and funny retelling of the Snow White legend, Mirror Mirror features breakout star Lily Collins as Snow White, a princess in exile, and Oscar®-winner Julia Roberts as the evil Queen who ruthlessly rules her captured kingdom. Seven courageous rebel dwarfs join forces with Snow White as she fights to reclaim her birthright and win her Prince in this magical comedy filled with jealousy, romance, and betrayal that will capture the hearts and imaginations of audiences the world over. The film also stars Armie Hammer as the Prince, and Nathan Lane as the hapless and bungling servant to the Queen.
Film Credits
Producer:
Bernie Goldmann
Ajit Singh
Ken Halsband
Andy Berman
Brett Ratner
Ryan Kavanaugh
Nico Soultanakis
Writer:
Jason Keller
Melisa Wallack
Marc Klein
Starring:
Armie Hammer
Bean Reigns
Julia Roberts
Martin Klebba
Nathan Lane
Lily Collins
More Information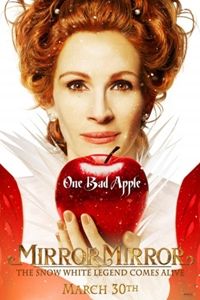 Rating:
PG
Parental Guidance Suggested. Some Material May Not Be Suitable For Children.
A PG-rated motion picture should be investigated by parents before they let their younger children attend. The PG rating indicates, in the view of the Rating Board, that parents may consider some material unsuitable for their children, and parents should make that decision. The more mature themes in some PG-rated motion pictures may call for parental guidance. There may be some profanity and some depictions of violence or brief nudity. But these elements are not deemed so intense as to require that parents be strongly cautioned beyond the suggestion of parental guidance. There is no drug use content in a PG-rated motion picture.
Advisory:
Contains mild threat, violence and infrequent mild language
Genres:
Action/Adventure
Comedy
Drama
Family
SciFi/Fantasy