Synopsis
The film tells the hilarious true story of David Ghantt, a half-brained driver at an armoured car company who is led astray by his flirtatious work crush Kelly. Kelly and her buddy Steve convince David to do an inside job, and to everyone's surprise he manages to pull off one of the biggest bank heists in US History! With Steve conspicuously flashing the cash and the FBI closing in on them the plan starts to go south, then further south. Meanwhile Ghantt is hiding out in Mexico awaiting the money and Kelly, but an unexpected guest arrives in her place. With everyone out for themselves, things quickly start to fall, stumble and slip apart...
Film Credits
Producer:
Lorne Michaels
John Goldwyn
Writer:
Emily Spivey
Chris Bowman
Hubbel Palmer
Starring:
Zach Galifianakis
Owen Wilson
Jason Sudeikis
Ken Marino
Kate McKinnon
Kristen Wiig
Leslie Jones
More Information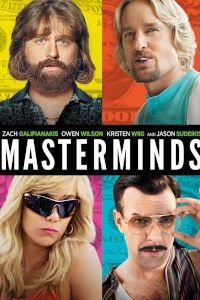 Rating:
PG-13
Parents Strongly Cautioned. Some Material May Be Inappropriate For Children Under 13.
A PG-13 rating is a sterner warning by the Rating Board to parents to determine whether their children under age 13 should view the motion picture, as some material might not be suited for them. A PG-13 motion picture may go beyond the PG rating in theme, violence, nudity, sensuality, language, adult activities or other elements, but does not reach the restricted R category. The theme of the motion picture by itself will not result in a rating greater than PG-13, although depictions of activities related to a mature theme may result in a restricted rating for the motion picture. Any drug use will initially require at least a PG-13 rating. More than brief nudity will require at least a PG-13 rating, but such nudity in a PG-13 rated motion picture generally will not be sexually oriented. There may be depictions of violence in a PG-13 movie, but generally not both realistic and extreme or persistent violence. A motion picture's single use of one of the harsher sexually-derived words, though only as an expletive, Classification and Rating Rules Effective January 1, 2010 8 initially requires at least a PG-13 rating. More than one such expletive requires an R rating, as must even one of those words used in a sexual context. The Rating Board nevertheless may rate such a motion picture PG-13 if, based on a special vote by a two-thirds majority, the Raters feel that most American parents would believe that a PG-13 rating is appropriate because of the context or manner in which the words are used or because the use of those words in the motion picture is inconspicuous.
Language:
English, Spanish
Released:
30 September 2016
Genres:
Action/Adventure
Comedy
Suspense/Thriller