62229
Machine Gun Preacher
Synopsis
When ex-biker-gang member Sam Childers makes the life-changing decision to go to East Africa to help repair homes destroyed by civil war, he is outraged by the unspeakable horrors faced by the region's vulnerable populace, especially the children. Ignoring the warnings of more experienced aide workers, Sam breaks ground for an orphanage where it's most needed-in the middle of territory controlled by the brutal Lord's Resistance Army, a renegade militia that forces youngsters to become soldiers before they even reach their teens. Determined to save as many as possible, he leads armed missions deep into enemy territory to retrieve kidnapped children, restoring peace to their lives-and eventually his own.
Film Credits
Producer:
Jillian Kugler
Marc Forster
Deborah Giarratana
Gary Safady
Douglas Saylor Jr.
Craig Chapman
Robbie Brenner
Starring:
Michelle Monaghan
Kathy Baker
Richard Goteri
Gerard Butler
Madeline Carroll
Peter Carey
Michael Shannon
More Information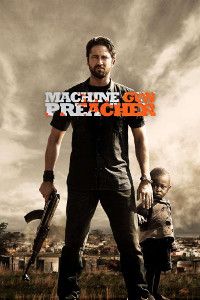 Rating:
15
Suitable only for 15 years and over
No one younger than 15 may see a 15 film in a cinema. No one younger than 15 may rent or buy a 15 rated video work.
Advisory:
Contains strong language, violence, threat and gory injury detail
Language:
English, Arabic
Released:
23 September 2011
Genres:
Action/Adventure
Suspense/Thriller