244265
Judy Moody and the Not Bummer Summer
Synopsis
Third-grader Judy Moody sets out to have the most thrilling summer of her life.
Film Credits
Producer:
Sarah Siegel-Magness
Gary Magness
Writer:
Megan McDonald
Kathy Waugh
Starring:
Janet Varney
Kristoffer Ryan Winters
Jordana Beatty
Parris Mosteller
Jaleel White
Garrett Ryan
Heather Graham
Preston Bailey
More Information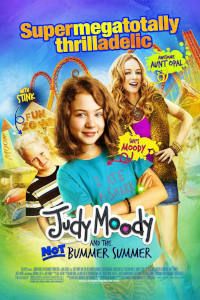 Rating:
PG
Parental Guidance Suggested. Some Material May Not Be Suitable For Children.
A PG-rated motion picture should be investigated by parents before they let their younger children attend. The PG rating indicates, in the view of the Rating Board, that parents may consider some material unsuitable for their children, and parents should make that decision. The more mature themes in some PG-rated motion pictures may call for parental guidance. There may be some profanity and some depictions of violence or brief nudity. But these elements are not deemed so intense as to require that parents be strongly cautioned beyond the suggestion of parental guidance. There is no drug use content in a PG-rated motion picture.
Judy Moody and the Not Bummer Summer