Synopsis
The brutal and bloodthirsty King Hyperion and his murderous Heraklion army rampage across Greece in search of the long lost Bow of Epirus to overthrow the Gods of Olympus and become the undisputed master of his world. With ruthless efficiency, Hyperion and his legions destroy everything in their wake. As village after village is obliterated, a stonemason named Theseus vows to avenge his mother, who was killed in one of Hyperion's brutal raids. When Theseus meets the Sybelline Oracle, Phaedra, her disturbing visions of the young man's future convince her that he is the key to stopping the destruction. With her help, Theseus assembles a small band of followers and embraces his destiny in a final, desperate battle for the future of humanity.
Film Credits
Producer:
Gianni Nunnari
Mark Canton
Ken Halsband
Jamie Marshall
David Hopwood
Ryan Kavanaugh
Nico Soultanakis
Writer:
Charley Parlapanides
Vlas Parlapanides
Starring:
Freida Pinto
Isabel Lucas
Kellan Lutz
Henry Cavill
Mickey Rourke
Stephen Dorff
Luke Evans
More Information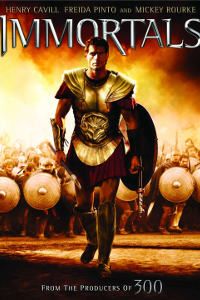 Rating:
R
Restricted. Children Under 17 Require Accompanying Parent or Adult Guardian.
An R-rated motion picture, in the view of the Rating Board, contains some adult material. An R-rated motion picture may include adult themes, adult activity, hard language, intense or persistent violence, sexually-oriented nudity, drug abuse or other elements, so that parents are counseled to take this rating very seriously. Children under 17 are not allowed to attend R-rated motion pictures unaccompanied by a parent or adult guardian. Parents are strongly urged to find out more about R-rated motion pictures in determining their suitability for their children. Generally, it is not appropriate for parents to bring their young children with them to R-rated motion pictures.
Advisory:
Contains strong bloody violence
Released:
11 November 2011
Genres:
Action/Adventure
Drama
SciFi/Fantasy