144835
House at the End of the Street
Synopsis
Seeking a fresh start, newly divorced Sarah and her daughter Elissa find the house of their dreams in a small, upscale, rural town. But when startling and unexplainable events begin to happen, Sarah and Elissa learn the town is in the shadows of a chilling secret. Years earlier, in the house next door, a daughter killed her parents in their beds, and disappeared - leaving only a brother, Ryan, as the sole survivor. Against Sarah's wishes, Elissa begins a relationship with the reclusive Ryan - and the closer they get, the deeper they're all pulled into a mystery more dangerous than they ever imagined.
Film Credits
Producer:
Peter Block
Aaron Ryder
Hal Lieberman
Writer:
Jonathan Mostow
David Loucka
Starring:
Gil Bellows
Elisabeth Shue
Nolan Gerard Funk
Max Thieriot
Jennifer Lawrence
More Information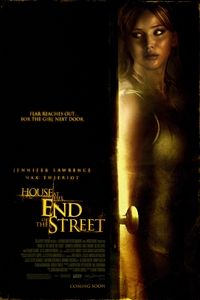 Rating:
PG-13
Parents Strongly Cautioned. Some Material May Be Inappropriate For Children Under 13.
A PG-13 rating is a sterner warning by the Rating Board to parents to determine whether their children under age 13 should view the motion picture, as some material might not be suited for them. A PG-13 motion picture may go beyond the PG rating in theme, violence, nudity, sensuality, language, adult activities or other elements, but does not reach the restricted R category. The theme of the motion picture by itself will not result in a rating greater than PG-13, although depictions of activities related to a mature theme may result in a restricted rating for the motion picture. Any drug use will initially require at least a PG-13 rating. More than brief nudity will require at least a PG-13 rating, but such nudity in a PG-13 rated motion picture generally will not be sexually oriented. There may be depictions of violence in a PG-13 movie, but generally not both realistic and extreme or persistent violence. A motion picture's single use of one of the harsher sexually-derived words, though only as an expletive, Classification and Rating Rules Effective January 1, 2010 8 initially requires at least a PG-13 rating. More than one such expletive requires an R rating, as must even one of those words used in a sexual context. The Rating Board nevertheless may rate such a motion picture PG-13 if, based on a special vote by a two-thirds majority, the Raters feel that most American parents would believe that a PG-13 rating is appropriate because of the context or manner in which the words are used or because the use of those words in the motion picture is inconspicuous.
Released:
21 September 2012
Genres:
Horror
Suspense/Thriller
House at the End of the Street