323548
Dr. Bird's Advice for Sad Poets
Synopsis
In the emotionally charged, wild and humorous world of sixteen year old James Whitman, his struggle to overcome anxiety and depression involve seeking advice from Dr. Bird - a giant imaginary pigeon therapist.
Film Credits
Starring:
Jason Isaacs
Lucas Jade Zumann
David Arquette
Lisa Edelstein
Taylor Russell
More Information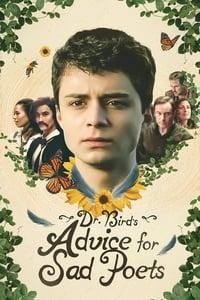 Rating:
R
Restricted. Children Under 17 Require Accompanying Parent or Adult Guardian.
An R-rated motion picture, in the view of the Rating Board, contains some adult material. An R-rated motion picture may include adult themes, adult activity, hard language, intense or persistent violence, sexually-oriented nudity, drug abuse or other elements, so that parents are counseled to take this rating very seriously. Children under 17 are not allowed to attend R-rated motion pictures unaccompanied by a parent or adult guardian. Parents are strongly urged to find out more about R-rated motion pictures in determining their suitability for their children. Generally, it is not appropriate for parents to bring their young children with them to R-rated motion pictures.
Dr. Bird's Advice for Sad Poets