Synopsis
Jon Martello is a strong, handsome, good old fashioned guy. His buddies call him Don Jon due to his ability to "pull" a different woman every weekend, but even the finest fling doesn't compare to the bliss he finds alone in front of the computer watching pornography. Barbara Sugarman is a bright, beautiful, good old fashioned girl. Raised on romantic Hollywood movies, she's determined to find her Prince Charming and ride off into the sunset. Wrestling with good old fashioned expectations of the opposite sex, Jon and Barbara struggle against a media culture full of false fantasies to try and find true intimacy.
Film Credits
Producer:
Ram Bergman
Nicolas Chartier
Starring:
Glenne Headly
Scarlett Johansson
Julianne Moore
Joseph Gordon-Levitt
Tony Danza
Brie Larson
More Information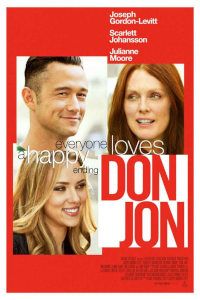 Rating:
18
18 Certificate
Films classified in this category are suitable for persons of eighteen or over. Those under eighteen will not be admitted to cinemas and it is the responsibility of each cinema, under law, to ensure that this is the case.
Released:
15 November 2013
Genres:
Comedy
Drama
Romance