Synopsis
In this imaginative origin story of two of the most beloved characters in literature – Peter Pan and Alice in Wonderland - eight-year-old Alice (Keira Chansa), her mischievous brother Peter (Jordan A. Nash) and their brilliant older sibling David (Reece Yates) let their imaginations run wild one blissful summer in the English countryside. Encouraged by their parents Jack and Rose (David Oyelowo and Angelina Jolie), the kids' make-believe tea parties, sword fights and pirate ship adventures come to an abrupt end when tragedy strikes. Peter, eager to prove himself a hero to his grief-stricken and financially-struggling parents, journeys with Alice to London, where they try to sell a treasured heirloom to the sinister pawnshop owner known as C.J. (David Gyasi). Returning home, Alice seeks temporary refuge in a wondrous rabbit hole while Peter permanently escapes reality by entering a magical realm as leader of the "Lost Boys."
Film Credits
Producer:
Andrea Keir
David Oyelowo
Leesa Kahn
James Spring
Steve Richards
Writer:
Marissa Kate Goodhill
J.M. Barrie
Starring:
Keira Chansa
Angelina Jolie
David Oyelowo
Derek Jacobi
David Gyasi
Gugu Mbatha-Raw
Jordan A. Nash
Michael Caine
More Information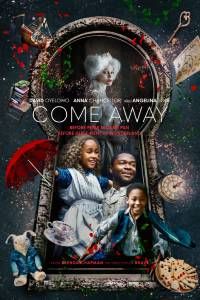 Rating:
PG
Parental Guidance Suggested. Some Material May Not Be Suitable For Children.
A PG-rated motion picture should be investigated by parents before they let their younger children attend. The PG rating indicates, in the view of the Rating Board, that parents may consider some material unsuitable for their children, and parents should make that decision. The more mature themes in some PG-rated motion pictures may call for parental guidance. There may be some profanity and some depictions of violence or brief nudity. But these elements are not deemed so intense as to require that parents be strongly cautioned beyond the suggestion of parental guidance. There is no drug use content in a PG-rated motion picture.
Country:
United Kingdom, United States
Released:
13 November 2020
Genres:
Action/Adventure
Drama
SciFi/Fantasy